The programme aims to address critical technology needs for biotransformation & enzymatic processes towards development of active pharmaceutical ingredients, neutra-ceuticals, phyto-chemicals, value-added bio-products, bio-energy & bio-fuels.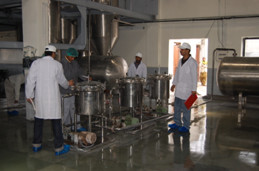 A Centre for Biofuels has been set up at National Institute of Interdisciplinary Science & Technology (NIIST), Thiruvananthapuram. This would be a leading seat of knowledge and pedagogy for skilled manpower development for the industries and institutions from within India and abroad. The centre would collaborate for accelerated development of improved strategies and technologies in bringing bio-fuels to market in sustainable manner.
Projects have been launched under the programme to develop pharmaceutical ingredients (11-hydroxy canrenone, S-indolene 2-carboxylic acid, prostaglandins, S-ibuprofen etc.) of high optical & chemical purity which could be obtained through biotransformation process using easily accessible microbial sources.
Stevioside developed from stevia leaves extract under a project is a zero calorie natural sweetening agent. It is 200-250 times sweeter than sugar, has excellent compatibility with cold & hot beverages and also exerts cardio-tonic and anti-oxidant effects.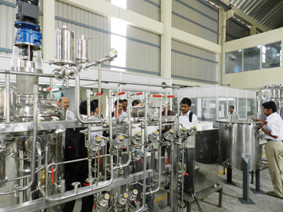 Academia-industry collaborative projects were  launched for detoxification of jatropha seed cake for its efficient utilization, L-arginine by fermentation, bioprocess for waste reduction in potato processing & novel process development in isolating standardized extract of Aloe Vera for diabetes control. Animal trials of detoxified seedcakes at small level were initiated after ascertaining the minimum acceptable limits of toxicants in the jatropha seedcake.
In response to the need for apprising the Indian industry of opportunities in the emerging technologies to convert biomass into liquid & gaseous fuels, chemicals, biomaterials etc., an Indo-US Conference was organized jointly by TIFAC, Confederation of Indian Industry (CII) and Indo-US Science & Technology Forum (IUSSTF). The conference addressed specific action points towards forging partnerships between Indian and US Industry, institutions (R&D and academia) in both the countries for collaborative projects, joint research activities and exploring the possibilities of transfer of readily scalable technologies.
Three specialized studies were commissioned under the programme and reports published on technology trends & opportunities encompassing areas of bio-ethanol, bio-oil, bio-hydrogen, bio-chemicals/ specialty chemicals & industrial enzymes, biomass derived value-added bio-products, nation-wide survey of surplus biomass resources in India for their exploitation with logistics for collection, transportation etc.