| | |
| --- | --- |
| MSME – Technological Upgradation Programme | |
Micro, Small and Medium Enterprises (MSMEs) are considered as the growth engine of any country. Besides contributing significantly to the economic prosperity they are the main employment generators at relatively lower capital costs. The MSME sector compliments large industries as ancillaries and contributes enormously to the socio – economic development. In India, around 4.6 crore of MSMEs produces more than 6,000 products contributing around 45% to industrial output, 40% to direct manufacturing exports, with a share of around 8% of the country's Gross Domestic Product (GDP). Of the total MSMEs, significant number is either owned by women (13.7%) or by economically weaker sections or rural based (45% of the registered units). Further, the Capital invested per job created is highly in favor MSME. This reflects the critical need for nurturing the MSMEs, not only to gain global competitiveness, especially after the global meltdown of 2008, but also from the point of socio economic balance of our country. However, MSME sector in India is so small in its resource base that it is hardly either able to invest into Research and Development and updating of technologies and machineries used for manufacturing or even acquiring new technologies. Thus one of the key challenges with bearing on the global competitiveness of the Indian MSME sector is lack of suitable systems for technology up gradation and design support for product diversification.
Towards framing a system for providing Research and Development (R&D) and technical support to technologically homogenous MSME clusters, Dr. R. Chidambaram, former Chairman TIFAC conceptualized this program in the year 2006. The program evolved a technology support model based on leveraging the infrastructure, knowledgebase and technical human resource of the proximate academic and R&D Institutes.
TIFAC – MSME program aims at building a platform for facilitating interactions of MSMEs with academia/R&D and Technical Institutions. The thrust is on providing technical support to the MSMEs by leveraging the knowledge base of nearby and competent academia R&D and Technical Institutes.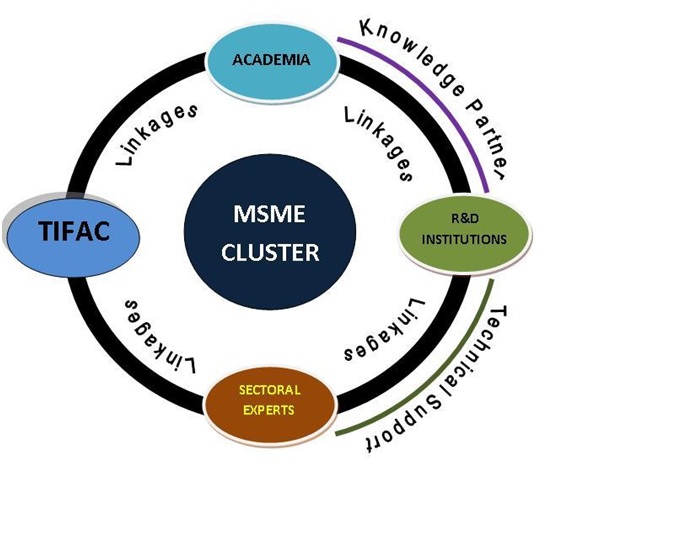 With around seven years of experience and coverage of around 25 clusters across the country, the program has been further evolved to augment the innovation support to the MSMEs by linking engineering students also with the MSMEs. The model is being experimented with five (5) different academic Institutions to begin with.
Approach: The approach starts with technology mapping and comprehensive assessment of technology needs with specific focus on technology status on clusters, identification of gaps, and designing a technology intervention plan for the cluster. Subsequent to the mapping, TIFAC undertakes need based requisite capacity building initiatives in the clusters.
Under the MSME program, as realigned during 2012, encompass the following:
Identification of potential clusters and studying their technology status, gaps, potential markets etc.
Preparation of technology intervention action plan, imparting requisite capacity building and training besides mentoring the clusters towards adopting new technologies.
Leveraging Ministries for hard interventions like setting up R&D Centers in clusters, etc.
Leveraging resources of Engineering and Technological Institutions (Faculty and students) towards R&D and technical support to MSME clusters.
A diverse and geographically wide spread set of MSME clusters have been chosen for intervention along with proximate Academic or R&D knowledge Institutes.
Initiative for boosting exports from MSME sectors
Government of India during 2012-13, had constituted an Inter Ministerial Group (IMG) for addressing comprehensively the challenges of export oriented MSME Sectors including falling exports. As a follow up to the recommendations, Technology Information, Forecasting and Assessment Council (TIFAC), an autonomous body of Department of Science and Technology, was entrusted with the task of coordinating, nucleating and facilitating follow up actions towards infusion of appropriate new technologies for boosting of exports. In subsequent consultations with office of the Secretary Ministry of Commerce, Department of Expenditure, Ministry of Finance and Ministry of MSME, it was decided to initially prioritize two or three sectors for intervention and begin with initial assessment of the sectors. The basis of selection of sectors is: potential for higher technology inputs, higher value realization, future potential and sector performance. Guar Gum, Electronics Systems Design and Manufacturing (ESDM), Technical Textiles and Essential Oils were the four sectors taken up initially.
Actions Undertaken:
Brainstorming Workshop held at Jodhpur with stakeholders i.e. Guar Gum industry association, Guar Gum industries, traders, Shellac and Forest Products Export Promotion Council, Min. Of Commerce, Min. of MSME, IICT – Hyderabad, FRI – Dehradun, ONGC, CAZRI –Jodhpur etc.
Subsequent networking with all the stakeholders.
Report on Guar 'GUAR : Status, Potential, Prospects, Challenges and R&D Road Map – Towards Boosting Exports' handed over to Ministry of Commerce for further actions.
Glimpse of Guar Gum Initiative:
Background: Over the years, in the course of implementation of MSME Cluster Program, it was felt that the interaction of technical institutes with the cluster industries remained rather limited and restricted to the level of faculty only (project/study investigators) with little or no involvement of students. Though our Academia/technical institutes of India have vast pool of human resource in the form of students also, but these students are not sufficiently oriented towards reaching out to the MSME Sector. With this in view, MSME Internship scheme was launched towards encouraging enhanced and continued involvement of students and faculty of technical institutions with industries and providing technical support to the otherwise technologically deficient MSMEs.
Objectives of the TIFAC – MSME Internship Scheme
Creation of a platform for establishing interaction between academia and MSME industries on a mutually win-win basis.
Establishing a platform for the MSME cluster industries to access R&D and technical support leveraging the knowledge base of faculty and knowledgeable human resource in the form of students from of technical institutions.
Providing hands on engagement and practical experience to the students and faculty on existing technical challenges in the industry and nurturing an innovation ecosystem that benefits both the industry as well as the technical institution.
The scheme launched in the year 2014 -15, and since continued, with five Institutions namely:
- Indian Institute of Technology, Banaras Hindu University, Varanasi, Uttar Pradesh
- PSG College of Technology, Coimbatore. Tamil Nadu
- MS Ramaiah University of Applied Sciences, Bangalore, Karnataka
- Pimpri Chinchwad College of Engineering, Pune, Maharashtra
- VIT, Vellore, Tamil Nadu.
Actions Undertaken:
TIFAC supports one hundred and fifty students (thirty (30) through each Institution) per year under the scheme.
Exposure of around One Hundred and Eighty (180) student internships from around the country have been facilitated to MSME industries.
Six (6) projects under Phase – II of the scheme for development of low cost and easily implementable solutions for the MSME industries have been supported through M.S Ramaiah University of Applied Sciences (MSRUAS), Bangaluru. The projects supported are as follows:
- Design and static analysis of special purpose packaging machine
- Design, simulation and development of acquisition of MRI
- Four layered printed circuit board for RF synthesizer
- System engineering approach to design motion control system of multi axis bench top robot
- Automation and control of special purpose packaging machine
- Design, simulation and development of reconstruction of MRI
Three (3) projects are also being taken up through Pimpri Chinchwad College of Engineering (PCCoE) , Pune, as under:
- Automation in Braided wire cutting & M I Rod Straightening & cutting methodology for thermocouple production unit
- Analysis of flow of hot gases over clutch plate of 16MnCr5, and design and development of pallet for enhanced heat transfer rate
- Design and development of Hydraulic Rotational Jib Crane
Six (6) project proposals from VIT, Vellore and PSG College of Technology, Coimbatore related to areas like automotive, mechanical, biotechnology, electronic sensor technology etc are also under consideration.
Towards scaling up of the program, implementation of the scheme through Rajiv Gandhi Commission for Science and Technology, Govt. of Maharashtra. Scheme is also continuing.
Soft interventions/ Capacity building
Soft interventions in context to the MSME cluster upgradation relates to a set of activities performed
/undertaken to improve/enhance the productivity of the cluster industries and enhance capabilities of
the persons working/associated with the industries/units operational in the clusters directly or
indirectly. These include entrepreneurs, industry owners, technical and managerial staff, other technical
and non technical workforce, skilled and unskilled workers, etc. The soft interventions to be started
normally after conduction of the gap analysis study and in line with the recommendations of the study
as part of the cluster development action plan. However, they may also be undertaken where the need
for soft interventions have been concretely realized.
The set of activities under soft interventions (capacity building) may be classified as:
Seminars/Conferences/Exposure meet/Workshops/Brainstorming/Awareness camps/Sensitization camps
Trainings for entrepreneurs and managers (on technical subjects and or linked to technology and its management aspects)
Trainings for skilled and unskilled workforce
The purpose of the above activities to directly address the mandate of the MSME program and the
objective of such interventions to be linked to overall technical upgradation of the cluster to enhance
the technical capability of manpower/workforce of the cluster. Exposure meets / workshops also to
include components for exposure of entrepreneurs, industry owners and technology managers to the
latest information about the know how of advanced technologies available at international and national
level.
Shri Sanjay Singh
Adviser,
TIFAC, Vishwakarma Bhavan
'A' wing, Shaheed Jeet Sing marg, New Delhi.-16
Phone : 011- 26592756, 42525756
E-mail: This email address is being protected from spambots. You need JavaScript enabled to view it.