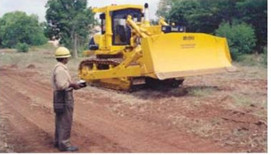 At the beginning of the last decade, India was gearing up for economic progress, and there was specific focus on good road network across the country. The earthquake in Gujarat which struck around then also flagged the need for proper equipment for disaster management. Recognizing the need of Road Construction and Transportation Equipment for creation of a better infrastructure as well as effective disaster management, TIFAC took up development and demonstration of some technologies in this sector.
The focus of the programme was to upgrade manufacturing capability and to reduce imports of equipment. Equipment to be developed were to be low cost and suitable for Indian conditions.
Technologies developed under this programme included:
Bitumen Indirect Heating Equipment: environment friendly, temperature controlled, independent automatic control panel

Paver Finisher: first time in India 7m and 9m automatic Paver Finisher was developed. It featured hydrostatic drive, hydraulically extendable screed and automatic sensor controls for grade and slope

Road Milling Machine: Width of milling drum 1000 m milling depth 1-100mm.

Kerb Laying Machine: Hydrostatic drive, sensor for grade, line and slope control

Radio Controlled Dozer: Unmanned vehicle, remotely controlled

Multipurpose Loader: Multiple attachments/ multiple utility, High lift duties, short turning radius

Self-propelled Articulated Crane: 17 m boom length, 4 part multi section boom (3 booms automatic, 1 manual). High reach with boom height of 17.6m.

Disaster Management Equipment: An excavator with attachments like combi-cutter, having shearer and cutter, breaker and grappler
These technology developments helped in offering low-cost state-of-the-art/ improved equipment to the road construction sector that was primarily dependent on imported second-hand equipment to reduce cost. TIFAC efforts helped the industry to develop advanced equipment despite heavy duty on certain components like bearings, sensor, hydraulics and controls etc.